EXPANDABLE ON DEMAND
Our comprehensive manufacturing system delivered as a cloud-based solution.
cloud-based erp for manufacturers
Unify your entire company on a single business foundation.
Expandable ERP meets the financial, manufacturing and order-management requirements of manufacturing companies:
Why DEPLOY ERP IN THE Cloud?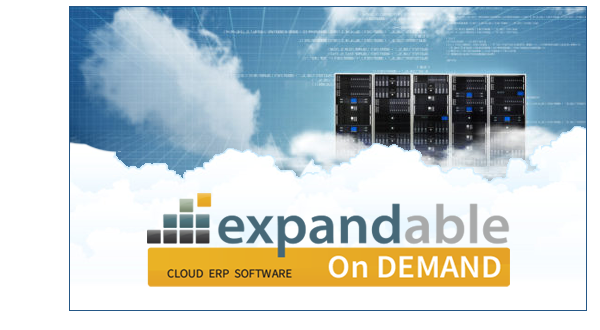 Convenient
Connect to Expandable through your favorite web browser — from anywhere you find an Internet connection.
Safe
Your data is protected by state-of-the-art network security, and redundant systems ensure uninterrupted service.
Manageable
Upgrades are automatically installed so you're always using the latest version of the software.
Benefits of Expandable on demand
Cost-efficient
No up-front software investment and ongoing expenses are smooth and predictable.
---
Accessible
System users at remote divisions or supply chain partner sites can log into the system safely and securely from wherever they access the Internet.
---
Flexible
Expandable On Demand can be deployed to the entire organization, a single division or single user. You pay as you go, and as your organization grows you simply add more users as needed.
Minimal IT Requirement
The system is upgraded, maintained and supported by Expandable, so there's no need to invest in expensive network infrastructure.
---
Secure
Enjoy a level of protection that's hard to achieve in a stand-alone ERP deployment. Your data is backed up religiously, and network redundancies ensure continuous service.
---
Low Risk
With no large up-front investment or long-term commitment, the subscription-based model minimizes the need for a prolonged, in-depth system search and evaluation process.
MORE DEPLOYMENT OPTIONS
Expandable gives you three deployment choices.
Subscription
Model
Best of both worlds – pay-as-you-go and customizable.
Subscription
Deployed
on-site
Customizable, low TCO and more control.
On-site ERP
Get the entire list of modules and functions
About Us
Expandable ERP provides a complete integrated business foundation that supports growing manufacturers as they expand all the way to the billion dollar mark.

Latest News
January 6, 2022
---
July 6, 2021
---
May 19, 2021
Contact Info
1762 Technology Drive, Suite 118
San Jose, CA 95110
1-800- 680-6050
1-408- 261-7880